IRRIGATION INSTALLATION & REPAIR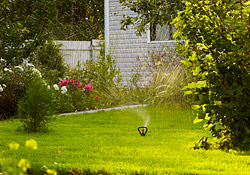 With the hot, dry summers we experience here in Florida, maintaining a healthy lawn and an attractive landscape can be challenging. Watering and irrigating your precious outdoor grass and plants is imperative to the health of your lawn and landscaping to keep your residential or business property looking great. Keeping those systems in top-notch working order will ensure that your lawn maintenance investment will look its best.
The proper design and construction of your irrigation system is as important as any other aspect of your landscape. We have the experience and knowledge to keep your system operating throughout the year. Our Landscape managers and maintenance team is trained to inspect the systems and adjust irrigation frequencies as required so that your system operates at maximum efficiency while allowing your landscape to grow to its full potential.
KraussCare Landscaping has proudly served the Fernandina Beach, Yulee and Jacksonville areas for over 21 years. At KraussCare Landscaping, we specialize in irrigation installation and irrigation repair. We do the job right the first time and are proud to offer both competitive and reasonable prices for our services.
We Provide Services to the Following Cities, Towns and surrounding areas in FL:
Fernandina Beach, FL
Yulee, FL
St Marys, FL
Northside, FL
Hilliard, FL
Jacksonville, FL
Greater Arlington, FL
Atlantic Beach, FL
Palm Valley, FL
Lakeside, FL