MULCHING & PINE STRAW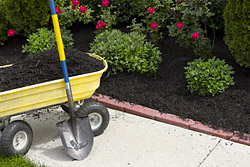 If you want your plants, trees and shrubs to survive, they need a good strong base. That is why one of the most popular services we offer here at KraussCare Landscaping is mulch installation and pine straw installation. Both mulch and pine straw create the perfect home for your plants, trees and shrubs by providing an environment that is conducive to growth.
Using mulch in your landscaping provides a decorative appearance that is ideal for adding curb appeal to yards, flowers or shrub beds. A great way to keep your yard looking great is to re-mulch your landscaping. Mulching your landscaping will give your yard a fresh look and hold in moisture and warmth throughout the winter. KraussCare Landscaping offers many different colors of mulch and full mulch installation services with competitive mulch installation costs.
As concern for the environment has grown over the past decade, so has the popularity of pine straw as an eco-friendly alternative to traditional landscape mulch. Pine straw is not only the greener choice environmentally speaking, but it also requires less maintenance over time, which saves you money in the long run. Consider pine straw a high-quality bedding material for your trees and plants. It is high in nitrogen and decomposes naturally, making it a perfect fertilizer for your plants and shrubs. A pine straw covering adds beauty to your landscape while deterring weeds. It is insect free, adheres well to slopes, keeps mildew, mold and rot away from vegetables and fruits, and will not wash away during heavy rain.
Whichever mulch option you choose to keep your plants, trees and shrubs alive and thriving, you can rest assured that KraussCare Landscaping will put every effort into making certain that all mulch installation and pine straw installation will be at the highest quality and last you for many seasons to come.
We Provide Services to the Following Cities, Towns and surrounding areas in FL:
Fernandina Beach, FL
Yulee, FL
St Marys, FL
Northside, FL
Hilliard, FL
Jacksonville, FL
Greater Arlington, FL
Atlantic Beach, FL
Palm Valley, FL
Lakeside, FL