PLANTING: SHRUBBERY, TREES, ANNUALS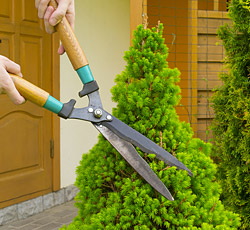 Annual Flower Installation
The difference in a pretty yard and a beautiful one is color. An addition of seasonal colors to your landscaping not only increases the aesthetic appeal of your property but adds to the value of it as well. KraussCare Landscaping will professionally design, select and install annual flowers in the areas of greatest impact on your property. We also offer perennial designs and installation.
At KraussCare Landscaping we have the expertise and experience to make your yard, lawn, residential or commercial property into one that is car-stopping.
Bush and Shrub Trimming
KraussCare Landscaping can trim your bushes, shrubs, and small trees. Trimming addresses architectural concerns such as safety, structural integrity, shape, appearance, and the seasonal character that bushes, shrubs and trees add to your property.
It is important to trim bushes back away from your house so they don't hold in moisture. This helps reduce mold and mildew growth in the spring and gives your foundation the breathing space it needs.
We Provide Services to the Following Cities, Towns and surrounding areas in FL:
Fernandina Beach, FL
Yulee, FL
St Marys, FL
Northside, FL
Hilliard, FL
Jacksonville, FL
Greater Arlington, FL
Atlantic Beach, FL
Palm Valley, FL
Lakeside, FL