LAWN MAINTENANCE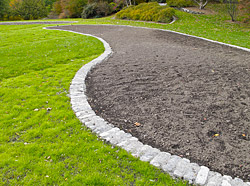 When it comes to the outside of your home, your lawn and your landscaping appearance is everything. Well-designed placement, proper installation, and regular maintenance of grass, plants and structures in your yard not only enhance the curb appeal of your home, but add value to your property as well. We offer year-round contracts that are designed to save you money, but we are also available for your one-time cut. Just give us a call when you need us. We are fully equipped to handle large commercial or any sized residential property.
Enjoy a well-manicured lawn without all the hassle. Our lawn maintenance professionals have the knowledge and skill to keep your lawn looking its best all year. A nice lawn will enhance the look and value of your house and business.
A properly mowed lawn will be healthier, thicker, durable, and less susceptible to weeds, disease, insects, and fungi. Common mowing mistakes such as cutting grass at the wrong height, using dull blades, and mowing too infrequently will result in damage to your lawn. Leave it to the professionals and let KraussCare Landscaping make your lawn the best on the block.
We Provide Services to the Following Cities, Towns and surrounding areas in FL:
Fernandina Beach, FL
Yulee, FL
St Marys, FL
Northside, FL
Hilliard, FL
Jacksonville, FL
Greater Arlington, FL
Atlantic Beach, FL
Palm Valley, FL
Lakeside, FL